Fourth National Conference on Interdisciplinary Education
Interdisciplinary Education as a Pathway to Global Citizenship
Friday, June 3rd (11.00-18.00), 2022 – University College Maastricht
The Fourth National Conference on Interdisciplinary Education (NIE) is hosted by Maastricht University and will take place on Friday June 3, 2022. During this conference, teachers, researchers and students will come together in innovative formats (workshops, solution rooms, exhibitions and more) to share experiences, practices, expertise, and ideas related to interdisciplinarity in higher education. The theme of the fourth NIE conference is Interdisciplinary Education as a Pathway to Global Citizenship.
In an ever more complex and interconnected world, future generations will need to interact, work and live together with people from a wide variety of backgrounds and cultures. Moreover, in such a world, their actions and choices can have far-reaching consequences, affecting people all over the world for better or for worse. To successfully function in this context, one requires Global Citizenship skills. In recent years, more and more universities have made the fostering of skills like perspective taking, normative and change agent skills an explicit goal of the education they offer. Many have argued that interdisciplinary education is an excellent way of cultivating global citizenship.
The fourth National Interdisciplinary Education conference will bring together teachers, researchers and students to explore the relationship between interdisciplinary education and global citizenship. While the conference focuses on global citizenship skills, it will also feature contributions on other issues of interest to interdisciplinary educators, such as, for example, assessing interdisciplinarity, understanding the role of interdisciplinary education in reaching the sustainable development goals, or rethinking student – educator roles, and more.
Anyone with an interest in these issues is welcome to attend. There is no registration fee and refreshments/lunch will be offered. Please find directions to the venue here.
Please register for the conference here, by May 25th, 2022.
Teun Dekker (University College Maastricht, Maastricht University)
Herco Fonteijn (Faculty of Psychology and Neurosciences, Maastricht University)
Valentina Mazzucato (Faculty of Arts and Social Sciences, Maastricht University)
Elissaveta Radulova (Faculty of Arts and Social Sciences, Maastricht University)
Program
 10.30-11.00     Registration and Coffee (Common Room)
11.00-12.00     Plenary & Keynote (Common Room)  Cultivating Global Citizenship – By Students of the BSc Global Studies
12.00-12.45    Lunch (Common Room)
12.45-16.15     Presentations, Workshops, Solution Rooms, Exhibitions, etc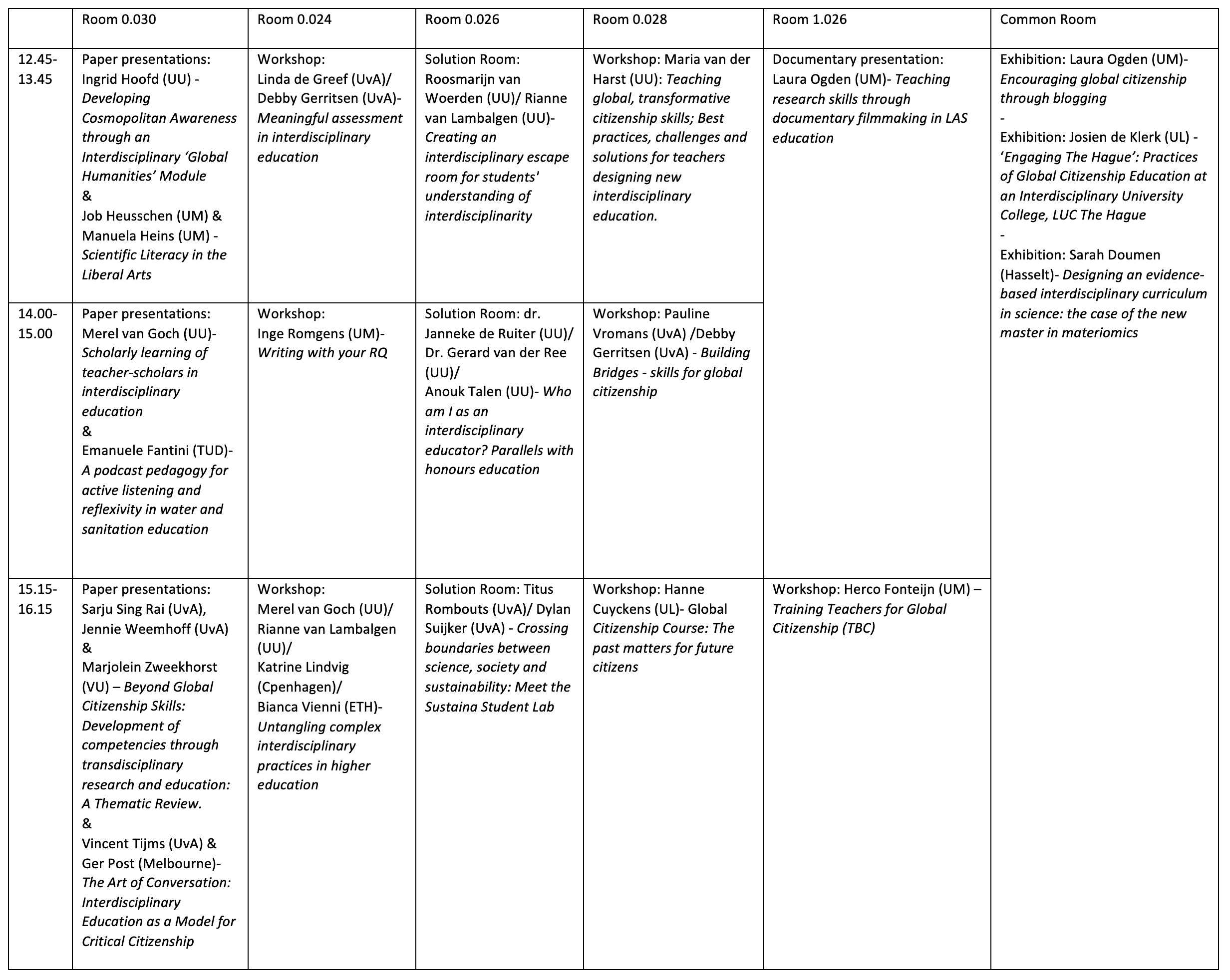 16.15- 16.45      Closing Panel (Lecture Hall)
Reflections on the day and the role of interdisciplinarity in civic education, featuring:
– Sophia Longwe (UM)
– Prof. Valentina Mazzucato (UM)
– Prof. Iris van der Tuin (UU)
– Prof. Marjolein Zweekhorst (VU)
– Moderated by: Prof. Teun Dekker (UM)
16.45-18.00       Drinks (Common Room/Courtyard)